Booking
Sound and culture experiences for your community.
Booking Info
For bookingIf you just want to say hi, head over to the Contact page. please email Rachel Harris, Community of Sound, and indicate the sort of experience you would like for your audience.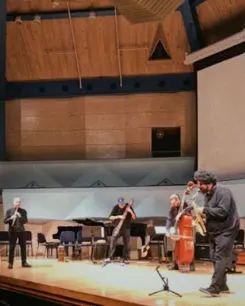 Gahlord Dewald performing with Matthew Evan Taylor, Elliott Sharp, and Mark Christensen performing at Middlebury College In order to expedite the process please include as much of the following as you can:
Preferred dates
City and State/Province/Region where the performance will take place
Venue information
Covid protocols
Proposed budget
Currently booking Japan for Summer 2022, New England for Fall 2022, and Europe for Winter 2022.
Email: Rachel Harris, Community of Sound
All performances & workshops include marketing support via the Sound, Culture, Community newsletter, Instagram, and Twitter.
For additional contextual information about Gahlord Dewald, please see the bio page.
Touring Shows
Three outstanding possibilities for engaging your audiences with new sounds. Each performance includes moments of playfulness, seriousness, with a spirit of exploration and finding of the new.
New Works for Double Bass
A collection of new works commissioned by Gahlord Dewald which explore the textural and sonic capabilities of the double bass.
All Wires Sturdy and Slender
A cross-pollination of double bass and modular synthesis. The combination of old and new technologies blurs the lines between what happens and what is possible.
SoundPhysics
A playful exploration of the sounds hidden within the double bass. Through the use of unusual ways of playing and a variety obscure electronics, new and unique sounds emerge and enfold listeners.
Bands, Ensembles, & Featured Performances
Collaborative work layers in additional perspective, experience, and possibilities for deepening community.
Jaguar Stereo
Poet and bass clarinetist Toussaint St. Negritude joins forces with Gahlord Dewald for a celebration of liberation in sound and words.
The Yes &
Composer-performer Leilehua Lanzilotti and experimental musician Gahlord Dewald create new worlds of sound using acoustic and electronic instruments.
Fat Tiger
Experimental electronic dance music from Eric Segalstad and Gahlord Dewald.
Ariel Zevon
A new sound of songwriting that whispers between art song, free improvisation, and songs of protest.
Penelope: Electronics
Gahlord Dewald is available to perform the electronics part for Sarah K Snider's Penelope with your ensemble.
Workshops
In addition to performances, Gahlord can provide unique educational opportunities for your students and community. All workshops are developed based on direct experience with the material and presented to help participants thrive in a changing world.
Free Improvisation for Classical and Other Music Students
Learning to let go and explore timbre, texture, and other sonic possibilities that exist beyond the printed page. Presented in a welcoming spirit that encourages growth and exploration.
Strategy and Experimental Music
Connecting principles of experimental music to the strategic activities we all perform daily. Participants learn to expand their capacities for observing the world, orienting themselves in the face of challenges & opportunities, and practice decision-making techniques.
Experimental Typography and Improvisation
Drawing together the visual/conceptual discipline of typography with the interpretive art of improvisation, participants create visual and sonic artifacts for group interpretation. This workshop requires a graphic design or book arts studio. It also is conducted regularly at the 32M Center for Creative Work in conjunction with Golgonooza Type Foundry & Press.
Contextualizing Our World Through Field Recording
Participants engage in the gathering, organizing, and integrating sounds of our world into a meaningful experience for themselves and their audiences.
Making a Creative Life
Remaining creative while facing precarity is a significant challenge for many in all stages of their work. This workshop is a bare-knuckle approach to building the necessary space and community to continue pressing forward.