…and electronics
a show that explores the creation and performance of electroacoustic composition
Gahlord Dewald :: 1/5/22 :: Mānoa, Hawai'i
The radio show …and electronics, began as an interview segment of the radio show Bleep Boop Beep airing on WRUV 90.1FM. Each episode features a conversation between Gahlord Dewald and a composer or performer who works with music that includes an instrument with electronics.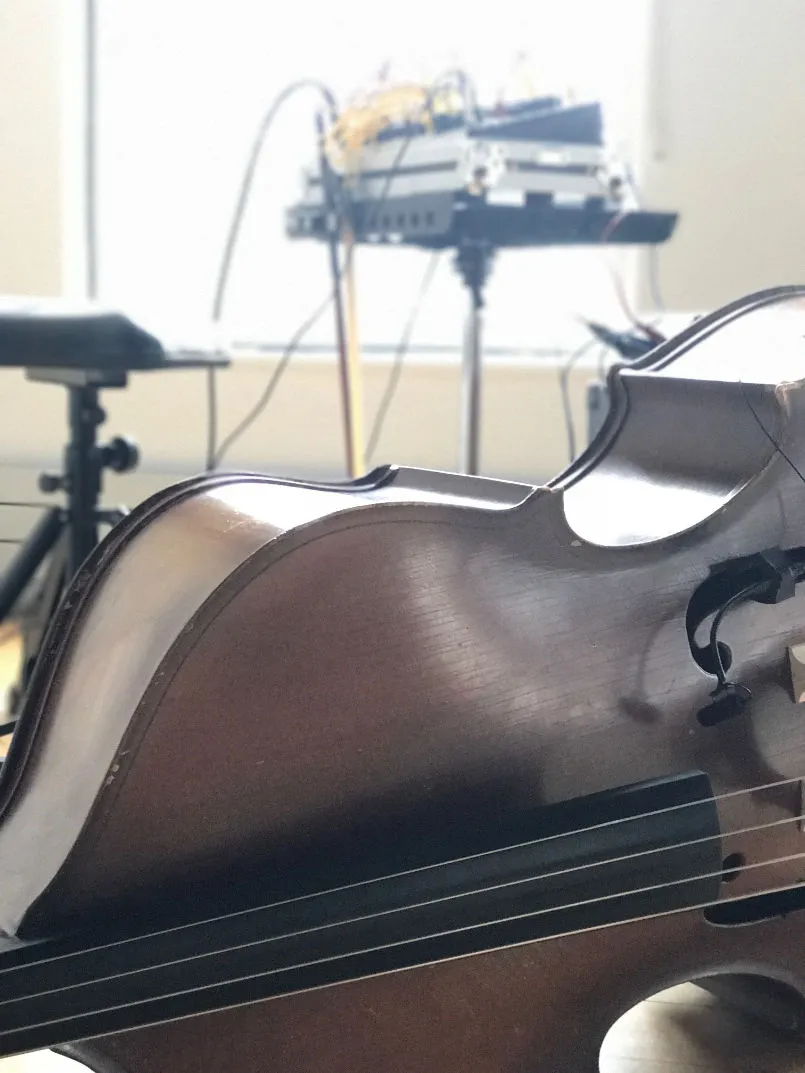 Show notes on these electroacoustic composers and performers
Sarah Kirkland Snider
Recently, I had the opportunity to speak with composer Sarah Kirkland Snider about her use of electronics in composition. Since I enjoy performing the laptop part for her song cycle Penelope we talk about how electronics came to be in that work, her working process with sound designer Michael Hammond, and other interesting aspects of making music. Full transcript available on the Penelope electronic performance notes page.
Leilehua Lanzilotti
Leilehua Lanzilotti is a leading composer-performer and often plays and makes music that incorporates electronic elements. We talk about her EP which makes use of field recordings, playing the music of Kaija Saariaho, some of the things that performers and engineers can do to make better performances, and aesthetics of technology.
Links to sounds, people, things mentioned in this episode of …and electronics.
(Also, I would be remiss if I didn't disclose that Anne and I have a viola and live electronics duo called The Yes &)
Zoë Blade
In this episode of …and electronics I interview UK-based electronic music composer and producer Zoë Blade.
Listen to hear her talk about her production process, the way she configures her work space, and the role of relationship in creativity.
Carolyn Chen
Carolyn Chen began composing after her undergrad. We talked about her piece for Now Hear Ensemble called "Made in China, Made in California." In it, she uses field recordings to contrast imagined place between the two locations. The field recordings and video contain sonic events that form a structure for interaction with the ensemble.
Chen shares her entry into composition by way of free improvisation. She describes her feelings on the first day of a free improv class and how the class eventually became a source of inspiration for her.
There's lots more in here including details about the guqin, making music in zero-gravity, and her recent commission for Southlands Ensemble.
Jolene Masone
This interview with experimental bassoonist Jolene Masone originally aired on WRUV 90.1FM Burlington, Vermont.
Matthew Whiteside
An interview with composer Matthew Whiteside about creating music for instrument and electronics. Whitesides' album Dichroic Light includes compositions for electronics and instruments.
Mentioned in this interview:
Elizabeth Reid
Interview with Elizabeth Reid, violist, broadcast on WRUV 90.1FM Burlington, VT on March 19, 2016.
Garrett Schumann and Chris Sies
Episode 8 is an interview with Garrett Schumann and Chris Sies. One of the pieces featured, "Djendemic," was for percussion and contact microphones. A fair bit of encapsulated electronics were used to realize the piece.
Garrett shares a great story about how they realized they their shared love of metal. This turns out to be an important aspect of their musical collaborations because their shared esthetic increases what they can make together. The result is more pieces for Chris to perform and performances that are aware of what Garrett is after, in terms of a sound world.
Chris talks about the nature of their collaboration in creating "Djendemic." The way they assemble the music has an awareness of and is influenced by their collaboration and performing environment.
Garrett also the artistic director of ÆPEX Contemporary Performance:
Meerenai Shim
I had a great conversation with flautist Meerenai Shim recently. We talked about how the variety of instruments, electronics, and percussion influences how her group A/B Duo programs works for performance.
Meerenai also describes a project she was playing on to assist a songwriter in the creation of an album. At the album release party she discovered she wanted to play music for flute and Gameboy.
While acknowledging that young players today consider electronics a normal part of making music, she gives some great advice for getting started with playing "and electronics" music.
She gives some advice for composers making music for instrument and electronics. In the full interview below she goes into detail on this point, so composers: definitely check that part out.
Among my favorite parts of the interview are when Meerenai talks about her desire to do more improvisatory music making. She mentions how this doesn't necessarily fit in the contemporary classical music scene exactly, and when pressed on the difference, she generously shares her perspective on making music with her chiptune band vs in the contemporary classical arena.
Also, she talks about the label she founded, Aerocade and the kinds of projects she's looking for with it.
David Vickerman
This is interview with David Vickerman originally aired on 90.1FM WRUV Burlington, Vermont.
Alexandra Gardner
In this episode of "…and electronics" I have a conversation with composer Alexandra Gardner. She tells us how she got into making electronic music, gives some words of advice and encouragement to those beginning in this genre.
One bit of advice she shares–which is worthy of taping to my forehead–is to make music with whatever you can and not get too worried about your gear. Procrastination by gear is a real thing.
Having created several successful works combining instruments and electronics, Gardner gives us some insight and things to think about when making this kind of work–useful for composers and also useful for performers trying to understand how to perform and consider this music.
Interview with Alexandra Gardner broadcast on WRUV 90.1FM Burlington, VT on March 5, 2016.
Her album Luminoso features several works for instrument and electronics.
Jason Charney
Interview with Jason Charney, composer and sound artist, broadcast on WRUV 90.1FM Burlington, VT on March 12, 2016.