Across the Transom, Feb 2022
Ephemera of an Experimental Musician
Gahlord Dewald :: 2/22/22 :: Mānoa, Hawai'i
Feb 25, 2022 Great phone call with a colleague in the New Music/Community Building sphere. I need to remember to connect more often to others who are doing this work too. It's good for my soul.
Did beach dinner from Ala Moana park with some local classical musicians.
Began seeking out Ukrainian improvisors, experimental musicians, composers/performers for my next Experimental Music Playlist.
Ghost of Kyiv. Though the ace-in-a-day star is probably a myth, the story of Ukrainian people continuing to hold off the Russian advance is not a myth. Also the people in Russia protesting the war being waged in their name is not a myth.
Feb 24, 2022 Went to an indoor small-venue show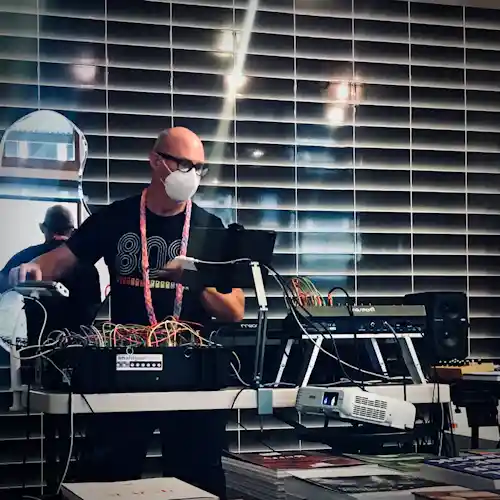 Elastic Limit performing at Bās Bookshop, Honolulu. for the first time since 2019. A series at Bās Bookshop in Honolulu that is featuring sound design and electronic music. It was great to see a show. Vaccination check at the door, everyone wearing a mask properly the whole time, and that the venue wasn't a food/booze thing helped me feel safe.
Fuck you, Russian Warship. Ukraine continues to defend itself from further invasion. I begin planning next playlist to include some music by Ukraine artists.
Feb 23, 2022 Hanging out with another bassist who has an instrument made by the man who was, for many years, the primary luthier for my bass. Good times. Also the executive director of a vibrant contemporary music ensemble. They were passing through on a tour and it was great to be able to meet them and hang out some here in Hawai'i.
A friend asked me a question about live performance headset microphones for vocal performance. For live performance I'm very much a user of the DPA Core series microphones. Most of my live double bass + electronics performances are made using the DPA because it does a great job and I can run it into mixers and interfaces.
When finding a live performance microphone there are a few considerations:
Microphone Pattern: omnidirectional is better sound quality but will pick up all the sounds on stage (and in the front row of the audience!), cardioid is more directional and will have less of that bleed. Doesn't sound as good as omni but it isn't terrible either.
Mount There are a variety of mounts for different instruments and situations: string mounts, clip mounts, strap mounts for flute or clarinet, and headset mounts. My friend was looking for a vocal mic so headset mount was the right thing.
Connector Small performance mics are often connected to a wireless box so the performer isn't tied to the mixing board. Different wireless systems (Shure, Sennheiser, etc) all have different connections so choose one that works with the wireless system you'll be using.
Adaptor Not entirely necessary but it's good to just get this when you get your mic. Get an adaptor that connect syour to your connector and then adapts to XLR. That way you can plug directly into a board if you need to (wired connection). This is good in emergency (no wireless box) and recording (better fidelity) situations. Some of the adaptors have a filter built into them so that low frequencies are rolled off. So long as you aren't a bassist (like me) this is good to do, makes for a better signal.
The Mic Itself the different DPA Core mics are differentiated by pattern (discussed above) and SPL level—how loud of a signal will be happening close to them. Things like trumpet might be good with the medium or high SPL mic. Things like bass are good with the low SPL mic. Things like snare need the high SPL mic.
Beyond the Mic for most people the mic will be enough. They'll hand the connection over to the sound tech and live will be good. But if there's no sound tech you need a few other things: mic preamp (something that provides +48v to power the mic), maybe some XLR cables if you aren't going wireless or else a wireless system if you are. A little windscreen for the mic if it might be in the way of direct wind.
If you get a mic for live performance make sure to spend some time learning how it works, where to position it to achieve a sound you like, how it is. to move with all those cables everywhere. Getting comfortable with this kind of setup takes time and can feel really clumsy until you settle in.
You and I in a little toy shop, buy a bag of balloons with the money we've got. I've spent the past few weeks hitting refresh on the feeds, following the Russian war. Tonight Putin began this latest phase of it while the UN Security Council was meeting. Music and life and all that but these are real lives being cut short that didn't need to be.
Feb 22, 2022 Writer Dalanie Harris posted a thread on the role of Director of Humanities in an orchestra.
The Director of Humanities' job is to expand on the thematic work of the music being presented in a way that can exist in conjunction with the music or on its own, using the musical programming as more of a jumping off point than a direct set of parameters to adhere to. (7/15)
Part of what makes this interesting is that It's more of a curatorial role and not under the education department. This role helps build context around themes related and adjacent to the music. Seems a really smart way to both build audience (by bringing in people with adjacent interests) and deepen understanding of the material being presented.
A post on Lines about making a matrix mixer out of 4 mixers and mult cables has me jonesing to add an 8hp matrix mixer to one of my systems. Resisting the urge but it sure is tempting. We'll see how long I can hold out.
Configuring documentation plan (i.e. this website) to include some ephemeral elements: Transom (this page, daily-ish by month), Reading (monthly, what I used to post as text on Instagram), Bibliography (as needed probably by year, book info plus short descriptive text), Resources (as needed, probably just one big list, things I found useful, like a "bookmarks" page).