New Sound for Double Bass
Commissioned Works
New Sound for Double Bass is a performancePerformances:
March 25, 2020: Roulette, NYC*
Jan 3, 2020: Holyoke, MA
Jan 30, 2019: AM Frequency Series
September 9, 2018: CoS:INE Series
June 9, 2018: Histamine Tapes Salon

*Oh Covid-19... of experimental and contemporary works for double bass, many of them commissioned for Gahlord Dewald. This music explores the expansive texture and gestural qualities of the largest of the string instrument family in ways that surprise and provoke deeper contemplation of sound.
Performances of New Sound for Double Bass are built from a selection of the following works:
"with their i you your fuse" by Leilehua Lanzilotti
"The Days are Long" by Jen Wang
"Sincerely" by Chrysanthe Tan
"Blue John" by Alexandra Gardner
"Zion Lullaby" by Cassandra Venaglia
"Origin" by Rajna Swaminathan
"I've Chosen Darkness" by Rossá Crean
"Bass Piece for Gahlord" by Jessica Rudman
"Undone" by Stephanie Meyers
"wobble|DROP" by Evan Williams
"lapse_3" by Yaz Lancaster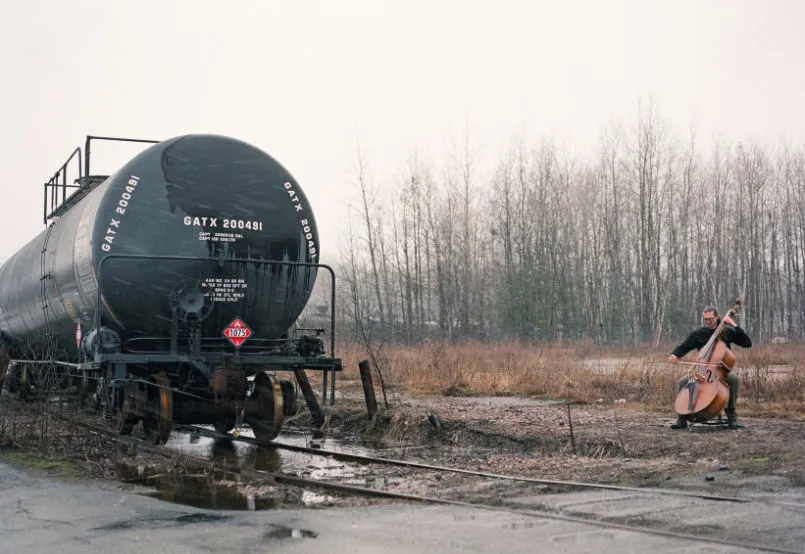 About the composers
Leilehua Lanzilotti is "a leading composer-performer" (New York Times) who translates sounds from everyday life onto traditional instruments using nontraditional playing methods.
Jen Wang is a Los Angeles based composer who has had works performed at Internationales Ferienkurse für Neue Musik, Arcosanti, and the MusicX Festival.
Chrysanthe Tan is an autistic, Cambodian-Greek-American composer and violinist. Their fixation with verbal expression, text, and the implications of language stems from their lifelong challenges with verbal processing and idiomatic interpretation.
Alexandra Gardner is a composer of works that are "mesmerizing" (The New York) and "highly lyrical and provocative of thought" (San Francisco Classical Voice). She was the Seattle Symphony 2017-18 Season Composer-in-Residence.
Cassandra Venaglia explores her interest in the female perspective from historical, poetic and personal views through both discursive and linear narratives.
Rajna Swaminathan is an acclaimed mrudangam artist, composer, and scholar exploring new textural and improvisational horizons at the nexus of multiple musical perspectives. She is a Biophilia Records recording artist.
Rossá Crean is a vocalist, composer, songwriter, collaborator, and curator. Their music focuses on the lyrical and evocative elements of sound.
Jessica Rudman is a New Music Ninja who blends lyrical melodies with sensual harmony and vibrant color. In addition to being a composer, she is also a theorist and teacher.
Stephanie Meyers is a composer and piano-slaying cabaret chanteuse.
Evan Williams is a composer whose work reflects inspirations from the Baroque, Romanticism, Modernism, Minimalism, contemporary popular music, and everything in between.
Yaz Lancaster is a Black transdisciplinary artist interested in practices aligned with relational aesthetics & the everyday; fragments & collage; and liberatory politics.