Experimental Music Playlist: Field
Works engaging with field recordings and other related sound practices.
Gahlord Dewald :: 3/10/22 :: Mānoa, Hawai'i [[Updated 8/26/22 :: Nu'uanu, Hawai'i]]
There is a world outside.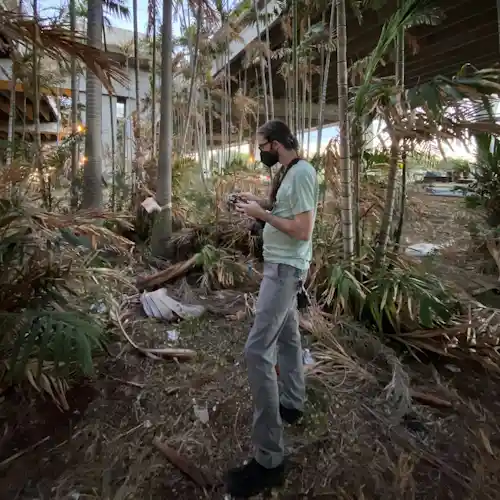 Photo: Ananddev Banerjee It contains water, earth, wind and other elements. There are birds and creatures. Electro-magnetic waves flow through this outside (and inside) world as well. Some musicians and composers bring these outside voices inside their music.
This edition of Experimental Music Playlist was made in support of a lecture I gave in 2022 as part of the Sara Little Turnbull Visiting Designer Speaker Series at Lehman College, NYC.
In this playlist you will hear
the electromagnetic sounds of the contemporary built environment,
cymbals alongside melting glaciers,
a woman singing a Northeastern woodland into existence,
the very first piece of musique concrète,
Kenya alongside shimmering synthesis,
an improvisation of the lifecycle of a fungus,
sounds of hope and nature,
a microphone in a waterfall,
happy goats.
AN EXPERIMENTAL PLAYLIST
I made this list so you could hear these sounds. It's about 45 minutes long. You may enjoy setting aside time to look out the window or draw or do some light task while you listen. Whatever is comfortable for you. Some sounds will only be audible on nicer speakers than a laptop or phone.
Since the end of the 1970s, Christina Kubisch has worked with the system of electromagnetic induction, which she developed from the basic technique to an individual artistic tool.
Susie Ibarra is a Filipinx composer, percussionist, and sound artist. Her album Water Rhythms is a story of climate change told by ice and water. It is a story about the dualism of water, the universal connector of nature and humans. It is also an intergenerational story of the rapid change and depletion of our glaciers and freshwater sources worldwide.
Stephanie Lamprea's artistic practice includes performing classical and contemporary-classical repertoire, solo recitals, chamber and large-ensemble collaborations, electronic music, multi-disciplinary performance, avant-garde noise, and improvisation.
In 1944,Fari Bradley, "Halim El Dabh: An Alternative Genealogy of Musique Concrète," Ibraaz 009_05, 30 November 2015. Halim El-Dabh presented his Expressions of Zaar (Ta'abir al-Zaar), from which "Wire Recorder Piece" is an excerpt. This was four years before the premiere of the next piece of music using recordings of the world.[Edit: August 25, 2023] In August 2023 composer and sound artist Nyokabi Kariũki, also featured in this playlist, published an essay describing the importance of learning about El Dabh's founding place in electronic music. It's an outstanding essay. Here's a small quote:Africans on the continent were part of the foundation and the building blocks, yet somehow, we didn't get to hear about it. I've been meaning to put it into writing because it's important for me to combat, through the concrete act of noting down, the academic gaslighting that many of us contemporary artists from the "non-Western" world have gone through, both from academic systems as well as the industry itself.Nyokabi Kariũki, "On learning that one of the first electronic works was by an African," nkariuki.com, 24 August 2023.
KMRU is a sound artist and experimental ambient musician, raised in Nairobi, Kenya, and currently based in Berlin where he is a Master's student in Sound Studies and Sonic Arts at the Universität der Künste
Experimental Music Unit is Paul Walde, Tina Pearson, and George Tzanetakis. They have engage in a regular exploratory music and sound art improvisation based out of the experimental music and sound art organization land (listening).action.sound.art.music
Based in Lagos, Ibukun Sunday entwines his compositions with viola, field recordings, and deeply considered philosophies of existence, humanity, and apocalypse. You can read more about his approach to making music at the Ashuelot electro-acoustic project.
This selection is also by Susie Ibarra, please see above.
Composer-performer Nyokabi Kariũki explores sound as preserver & as archivist; and as a tool to not only re-discover the stories of her culture, but also to highlight its significance, and contribute to the preservation of African and Black stories.
If you would like to be notified when the next playlist is posted, sign up for the Sound|Community|Culture Newsletter.